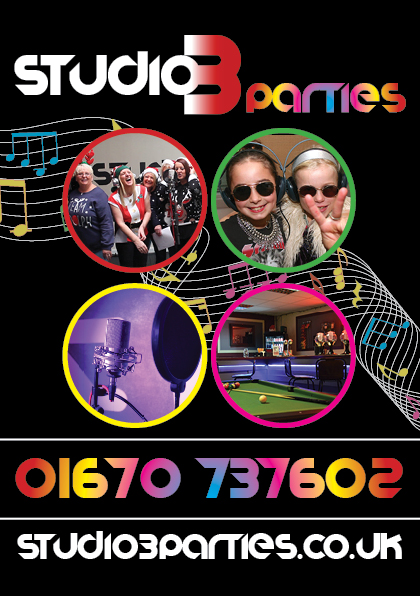 STUDIO3Parties.co.uk - the new scene in great parties at Lev3L

VENU3 - The new site for community exhibition in Manor Walks - WATCH THE MALL FOR THE SIGN !!!!!!!!
COMING SOON
Currently hatching.
Performing Arts

Community

Group - Operational - (Red Diamond Theatre group)


Blue Lamp Foundation - Currently at Dudley Court

Healthwise

Community

group - Currently at Dudley Court
CCSM (

Community

Sports Massage) - Currently at Dudley Court

Community

Radio Northumberland - Currently at Dudley Court
Digital

Community

IT- We're Back !- Every Monday at the Venue

TASC environmental Training - Currently at Dudley Court

Education Network.- Currently at Dudley Court - (Teacher training group)

Lev3L

Community

Crafters - At the VENUE every Saturday
Knit and Knatter

Community

group - at the VENUE every Wednesday
3rd Level

Community

Training - Currently at Dudley Court (Training environment for 16-24 year olds)
Studio

3

recording - Currently at Dudley Court
Lev3L

Community

Entertainment - Currently at Dudley Court
Fledged or Not Hatched
Digital Youth Enterprises - Fledged

Partial Print design - Did not Hatch !

Digitek Computers - Fledged
Without the MASSIVE Support of Hammerson and Manor Walks Management we could NOT deliver what we do
@ The VENU3 -
Our central Community Craft membership allows a constant local community delivery of local arts and crafts 
available all week at the VENU3 - you can see local artisans demonstrating their craft and offering unique and original products to our community. 
Call in and see for yourself, 
Saturdays - Craft Market day - ALL DAY - High Quality Hand Made local crafts
ALWAYS ON DISPLAY - Local Artists and Photographers commissions and Exhibition
---
Our success is attributed to our innovative and Unique projects that we deliver on an on going basis. From the "Incubator" project creating New business and community groups to the individual community exhibition projects delivered through the Venue.
Our work is always self sustainable after "Prime Pump" funding and its proven success is down to continued Private sector Sponsorship / Incubator Business Donations and YOUTH VOLUNTEERS that create self sustainable income. Proving that if everyone contributes a little it means a lot.